I'm thinking of cobbling together a whole new outfit this week (a simple outfit) just to have… you know, more things to dance in.
The reality is, costuming for belly dance, and to a lesser degree costuming for hip hop, can be extremely expensive.
So I just decided I'd make it myself.
But the reality is, I'm not a costumer or designer or fashionista or seamstress. Not by a long shot.
But! I have a cunning plan. I'll just destroy other already-made shirts, pants, bras, and nylon to get to a whole new outfit. And anything I have to sew, well, I'll just make whatever's the easiest thing to make – because really, no false modesty here, I cannot sew things. I have a sewing machine, I've thought about sewing before, I've dreamed of turning it on and throwing cloth into it and having it spit out something beautiful:
But sadly, it turns out sewing machines don't actually work that way. When will you catch up technology? When?
So I'm going to just dive head first into the costuming arena, and hopefully by this weekend we'll have learned something new together, or you'll have something to laugh at – which is totally fine by me. People need laughs, and let's all just be really honest, failure can be hilarious (which is why failblog exists).
So here's the breakdown as I see it:
Step 1: Get an idea (also known as "kyping someone else's ideas" – because I don't reinvent wheels)
Step 2: Plan costume (must learn to sketch…)
Step 3: Get supplies
Step 4: Turn on camera
Step 5: Make costume
Step 6: Post to website
I'm confident in my ability to do all of the above – with the possible exception of Step 5…
So I guess right now I'm in phase one: ripping other people off and envisioning a new costume for future Frankensteinization.
I need to do something really simple. I mean really simple. I'm going to start off with just a few easy aspects of costuming and then probably accessorize like crazy. Skirt-wise I'd like to have a 40 foot skirt, just because they're feminine and flowing and I don't actually have one (most of my closet is cabaret).
I was thinking something like this:
I would lighten up the top, but I love the 40-foot tucked skirt and I really like the top
OK, I might not do that top exactly, but it does look like it's just a modified ¾ shirt, which honestly, would be easy to do. While looking up 40-foot skirts on YouTube I also happened to see this shiny thing here and… I want it.
Love the outfit, LOVE this dance!
I like the bright colors, the sequins, the fact that she doesn't look like she's going to fall out of her top (because serious dancers know you gotta protect the girls!), and I particularly love the fanning out properties of her deceptively simple-looking skirt. She can actually move in the outfit, jump around, and not worry about tripping over the skirt or having a wardrobe malfunction. It's just a great outfit.
I personally think that's what dancers really need. It's great to look like a sexy diva goddess, but it's usually pretty hard on your ability to move around – which is ever so slightly important in dance…
I know I'll be making a top, and I'm sure at least one accessory, and probably destroying some already existing pants in the process.
For my top I'll make something really really simple, like a halter top.
I'm also thinking of making or getting some arm wear, because accessorizing is always easier than sewing on sleeves.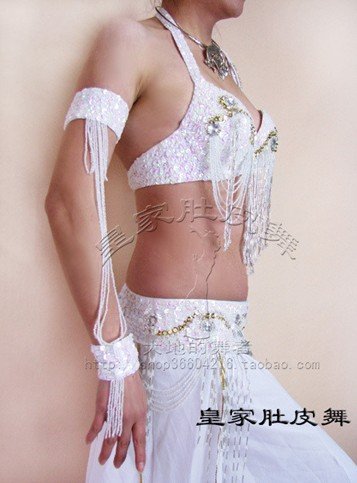 So, I'm looking at the basics: pants/skirt, belt, top, and maybe some… flair.
So right now I'm just floating around ideas, but by Friday I think I'll have an actual work in progress.